The Difference 6 Months Makes: Reflecting on Our Councils' Visit to Sisulu-Walker School
By: Sara, Riley's Way Council Member, The Hewitt School
One of the many things we do in the Riley's Way Council is our program for elementary schools where Council members teach a Riley's Way curriculum about kindness and empathy-building to third and fourth-grade students in October and then go back in May. For me, this is some of the most rewarding work we do because we get to directly see the impact of Riley's Way. We engage with a series of activities with the kids, beginning with a kindness pact, an agreed upon set of rules about how we should act during the activities, then, in small groups, we ask questions about different scenarios and how each student would have felt and what they would have done. We do a "kindness wave," where a series of statements are shared and you have to either raise your hand or touch the floor if the testament applies to you. Finally, we ask the kids to write thank you cards to someone they want to show their appreciation.
The most thrilling part about this experience was comparing it to the first time we visited one of the partner schools the beginning of the year compared to our final visit about six months later. I was able to go to Sisulu-Walker Charter School of Harlem for both visits and it was apparent the lasting impact the short few hours we spent with them in the fall had on them even now. When I first sat down with a table of students, they immediately recognized my purple Riley's Way shirt and were eager to show off their kindness wall full of the projects we did with them in October and the projects they did throughout the year inspired by our lessons.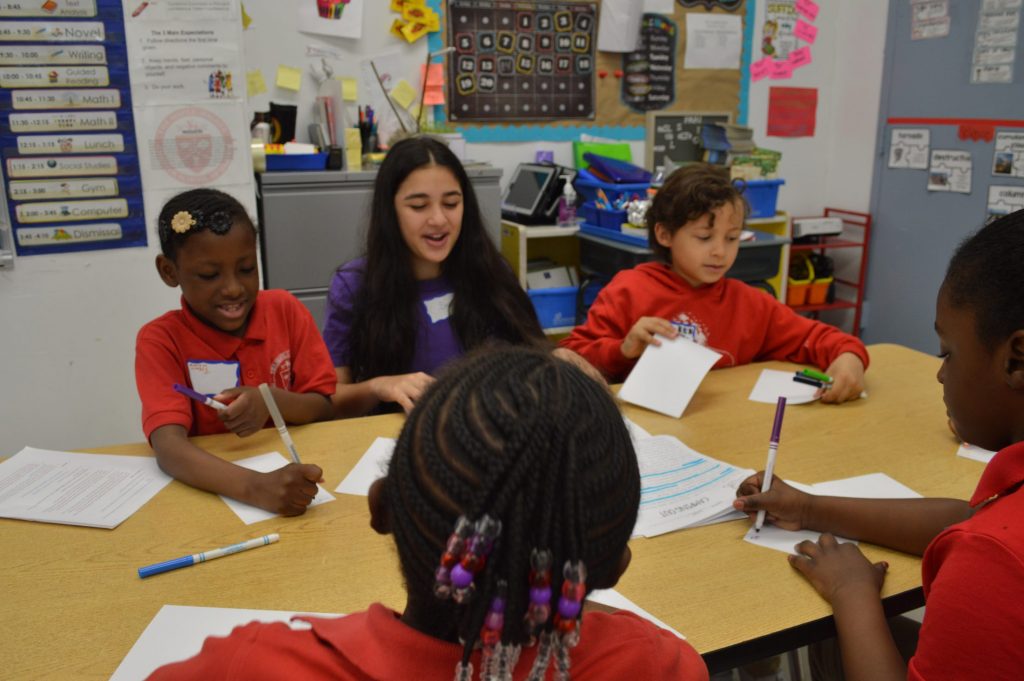 In the first activity we did, we discussed different scenarios and described times kindness had been shown to us. My heart was warmed to hear that their acts of kindness were not done out of obligation but of sheer desire to help a friend or even a new person. Specifically, I had a conversation with my group about what it felt like to be new at a school. Whether they had attended Sisulu-Walker elementary school since Kindergarten or they entered at a later grade, each one started off reticent and felt a bit alone. However, when I asked them how they overcame this feeling, they could pick out individual classmates who showed them a bit of kindness and allowed them to open up in their new school. They were so appreciative of the support shown to them by their parents and classmates. It was amazing how an act as small as letting someone borrow their crayon stuck with them and how thankful they were even now, at the end of the year.
I think the "kindness wave" activity was the most notable activity for me. Council members read questions about behaviors, and when you raised your hand it meant that you had done something right, and when you touched the floor it means you did something 'wrong.' There was so much pride in raising your hand, however touching the floor never felt great. Specifically, one boy felt upset when he touched the floor for the question 'have you ever done something wrong and not said sorry?' He ran up to me crying and hugged me saying he was sorry and that he felt bad. I explained to him that it doesn't matter if you've done something wrong, as long as you can acknowledge it now and learn from that experience. None of these activities were meant to make people feel guilty, rather they were meant to make people realize and acknowledge things they have done/have not done and try and grow from them. After this, it was very apparent that more people began to open up; more people touched the floor and nobody felt ashamed to do so. When the person next to them raised their hand, nobody lied and raised their hand if the statement did not apply to them. Instead, they began saying, "but next time I will.'
I'm really glad I had this experience of working with the Sisulu Walker school. I think I learned just as much from the kids as they did from us. I look forward to continuing our partnership with this school to spread the Riley's Way message.