By: Marjorie, Riley's Way Council Member, The Hewitt School
From September 20th to 22nd more than 70 teenage girls, along with close to 20 parents and faculty chaperones, traveled from across the country to Timber Lake Camp in Shandaken, New York to attend the first ever Riley's Way Youth Leadership Retreat. For two days, we spent time learning skills that embody the Riley's Way values of kindness, empathy, leadership, and connection making.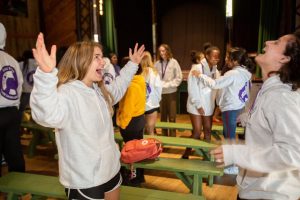 We participated in a variety of workshops, including "Telling Your Story" and "Relationship Building." In these workshops, we learned about each other's lives, about our shared experiences and traits, and how to lead with consideration for others and without exerting control. As Stephanie Dore, a Hewitt School faculty member and Riley's Way Council advisor, said, "One of my favorite activities at the Youth Leadership Retreat was a partner challenge led by the new Riley's Way Foundation Executive Director, Dr. Christine O'Connell. We were presented with the challenge to act as a perfect mirror to our partner, moving different parts of our bodies in unison. From this activity, we discovered the significance of guiding our partner to lead with kindness rather than lead to control." Through this activity and others, we learned to employ valuable skills that reflect Riley's Way's values.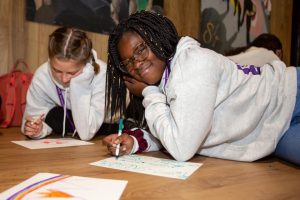 At the end of the weekend we had a bonfire, where we had the opportunity to mingle with people whom we may not yet have met. The atmosphere was celebratory and joyful. Towards the end of the evening, we "shouted out" people for whom we were grateful. I heard so many inspiring comments, including the students' recognition of all the parents, teachers, and speakers who worked endlessly to create the weekend. I could feel the kindness surrounding me throughout the entire weekend.
The Riley's Way Youth Leadership Retreat was one of the most positive experiences I have had. It allowed me to meet young "changemakers" who truly want to make a difference in other people's lives. I want to thank Riley's family, the people involved in Riley's Way, the numerous students, and all the faculty members who traveled for hours to make the weekend memorable, informative and let us see Riley's Way principles in action.
---
Below are some quotes from the Hewitt community about how they felt about this weekend:
"It was an outstanding weekend watching our girls interact with kind leaders from across the country and engage in relationship building through emotional work." – Patrick Kochyan (Hewitt Faculty Member and Riley's Way Council Advisor)
"This weekend truly inspired me in seeing the better side of every situation and influence others to be kind leaders." – Maria (Hewitt 10th Grader)
"The Riley's Way Retreat was a great way to connect with other individuals, explore relationships with people very different from yourself, and, in general, meet new people." – Grace (Hewitt 10th Grader)
"The Riley's Way Youth Leadership Retreat was filled with so many, genuine, kind people who showed me what it means to really be kind: Selfless care for others." – Natalia (Hewitt 10th Grader)