By: Julia, Retreat Participant, Montclair Kimberley Academy, NJ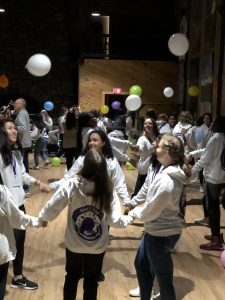 A couple of weeks ago, I arrived at Timber Lake Camp in Shandaken, New York for the first Riley's Way Youth Leadership Retreat, that 70 inspiring young women from around the country attended. I came with a few friends and I ended the weekend with more. The Retreat weekend was an empowering experience, not just for me, but for everyone. We started off our weekend by getting to know each other and doing some activities with small groups. In my small group, there were girls from New York City, Seattle, and Orlando, which was amazing because I got to know girls from different parts of the country. We shared our experiences from school, our travels to get to the Retreat, and so much more.
Once our evening was over, we all went back to our cabins and got to know more people. In my cabin, I had the opportunity to meet more friends from different parts of the country. I got to learn about what other girls are doing and make connections about what we do in our communities, a Riley's Way value. The atmosphere quickly turned to a community where everyone was working together and spreading kindness and exchanging compliments.
Saturday was by far the most jam-packed but also the most fun day. We started the day by hearing a speech from Ian Sandler, Riley's father. He made sure that we knew he was not leaving any details out as that was something he hated when he was younger. Everything that Ian said stuck with all of us for the weekend and helped us to get to know Riley better and keep her in the back of our minds as we moved through the weekend. Eventually, we moved on to do some more activities, but this time in larger groups. My first activity was "Relationship Building" all about how to maintain strong connections with other people to keep a good relationship going. I learned so much about how to make good impressions, and make sure that you are being kind throughout the whole process!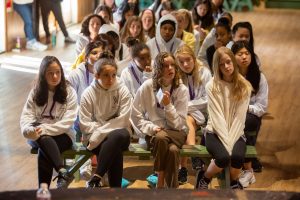 After we split for lunch I went to a workshop about empathy and friendship called "Telling Your Story," I got to work with other girls on how to share our stories about what we successfully do to help out in our community, as well as how to represent ourselves when meeting new people. After that workshop, I went to Art and I painted a little canvas with the phrase "the sky's the limit," something that had been echoed throughout the weekend. One of the best parts of the weekend was when I got to attend student-led workshops. First, I attended "The Issues of Privilege" which was a discussion about understanding privilege. Then I attended a workshop called "Teen Mental Health" about the different messages around mental health in the media and how we could deal with that as teenagers. The final workshop I attended was all about self-love and was led by Hannah Wiser who started an app called Womaze. It was an amazing workshop about how to love yourself. All of these workshops really emphasized the point that as young women we need to bring each other up through kind words and positive reinforcements.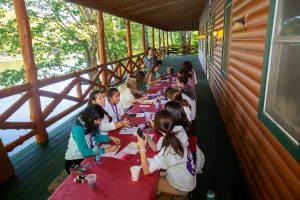 As the weekend came to a close we stood in a circle and said what we felt about our weekend. I heard words like kindness, inspiring, amazing, happy, and the last girl from New York said, "Riley," which brought the weekend to a happy close. I think that everyone felt all of the kindness. To most, kindness is a virtue or trait but, because of Riley's Way, more people are understanding that it's about shining through difficulties and to "always have a smile on your face" as Riley said.