---
The fourth annual Riley's Way Youth Leadership Retreat brought together 100 young leaders from across the country to build meaningful connections with like-minded changemakers at Timber Lake Camp in Shandaken, NY from Friday, September 30, 2022 – Sunday, October 2, 2022. The theme for the 2022 Riley's Way Youth Leadership Retreat was The Mic Drop: Listen + Amplify with Empathy.
Over the course of the weekend high school girls and gender expansive youth learned about advocacy, activism, and how to use their voice to make a difference. Students participated in leadership workshops and fun camp activities, were inspired by other young leaders, made life-long connections, and brainstormed how to use what they learn to build a better and kinder world.
The Riley's Way Youth Leadership Retreat is a FREE program. Room and board are provided and transportation costs for both students and adult chaperones are covered by Riley's Way Foundation.
---
THANK YOU TO OUR SPONSORS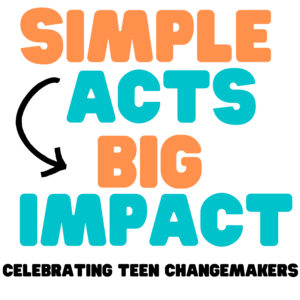 ---
2022 Youth Leadership Retreat Speakers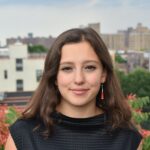 Ava Mateo
Ava Mateo (she/her/hers) is the Executive Director of 18by Vote. She believes deeply in the power of youth and finds it her mission to spread opportunity for meaningful civic engagement among teens and young adults. At 18by Vote, Ava leads an entirely youth-led team in the development and execution of hyper localized youth voter outreach programming. This programming supports paid youth participants in becoming catalysts for civic action within their own communities. With immense passion for sustaining democracy through the American public school system, she has a Master's degree in Sociology and Education (Concentration in Education Policy) from Columbia University, Teachers College. Her research was focused on the influence of youth-led organizations and youth educational programs on youth participant's socio-political identity development. Ava is a graduate of Sarah Lawrence College, Class of 2020.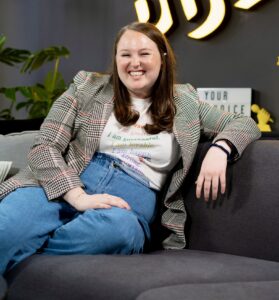 Sophie Beren
Sophie Beren is a unifier from Wichita, Kansas. She is the Founder and CEO of The Conversationalist, a non-partisan educational platform empowering Gen Z to break out of their echo chambers, have difficult conversations, and unify the world. Her community of over 100,000 young people is committed to coming together, across differences, through "POVz" the first ever Gen Z Talk Show, and through their digital network located on the Geneva app. Sophie was recently named "25 Under 25" by Social Entrepreneur's Magazine and "21 Women Entrepreneurs to Watch in 2021." Her social impact journey began at The University of Pennsylvania where she received her Bachelor's Degree in Communications and Music, and her Master's Degree in Nonprofit Leadership. Sophie's work, featured in Forbes, Entrepreneur Magazine, and even on a billboard in Times Square, has proven to be the antidote to the polarization we see in our country today. Beren will continue to unify the next generation, one conversation at a time.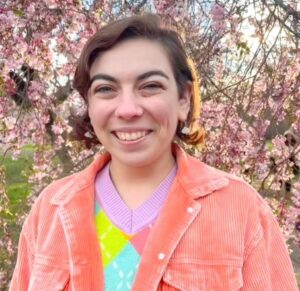 Zoe Stoller
Zoe Stoller (she/they) is a professional creator, educator, and writer — as well as a Master's student in social work — whose passion is spreading LGBTQ+ knowledge, mental health visibility, and overall authenticity through the power of social media. Zoe's goals in their work are to break the stigmas surrounding these topics, to create online resources with free and accessible education, and to empower her community to be their fullest, most authentic selves.
Alexia Leclercq

Alexia Leclercq is a grassroots organizer, educator, scholar, and artist. She has led dozens of environmental justice campaigns from passing national climate and chemical reform legislation and fighting for clean water, to addressing aggregate mining pollutions, relocating toxic tank farms, organizing mutual aid reaching over 4,000 people, and more. Alexia is also the co-founder of Start:Empowerment, a social-environmental justice education non-profit and her curriculum has reached over 120,000 students across the United States. Alexia's work has been recognized by the NYC Department of Education, UN Youth Assembly, NYU Global Awards Center, and was awarded the prestigious Brower Youth Award and Jericho Activism Prize. She has also been invited to speak at various events such as the Bioneers conference, CUNY Climate Education Conference, and Princeton University. Alexia graduated Summa Cum Laude from New York University where she published research on the commodification of land, and the impact of climate health during covid-19. Alexia is currently a graduate student at Harvard University.
Anya Dillard

Anya Dillard is a 19-year-old activist, philanthropist, social entrepreneur, model, and content creator. She is also the Founder of The Next Gen Come Up – a 501(c)3 nonprofit that encourages youth to pursue activism, get involved in community service, organize amongst their peers, and raise awareness through creating thought-provoking works of art. Though Anya has been a socio-political changemaker since she was 12, she started her first charity initiative when she was just 5 years old – one that's since raised tens of thousands of dollars each year to provide children suffering from severe physical and neurological disabilities with essential resources. In her community, Anya is best known for contributing to the largest civil rights demonstration in her town's history (garnering an audience of over 3,000 people), helping to organize her town's first-ever Juneteenth celebration, and being elected president of the first all-female, all POC, Student Council cabinet in her high school's history. Throughout her high school career, Anya helped to organize countless protests advocating for climate change awareness and demanding justice for victims of gun violence and school shootings. She even created the #MyRedStripe campaign – an image activism campaign that aimed to eradicate period shame in schools, raise awareness for period poverty, and raise funds to help provide underserved youth with feminine hygiene products. Most recently, Anya has partnered with The Emmett Till Legacy Foundation and co-founded the Youth Never Let Up Coalition – a collective of 10 Gen Z organizers that are working with the Till family to organize actions demanding justice for Emmett Till and push for Carolyn Bryant Donham to face federal charges for her involvement in Till's lynching. She has also gotten opportunities to meet with political leaders, including United States Secretary of State, Anthony Blinken, to discuss the impacts of United States Foreign Affairs in various countries. When she isn't organizing, giving back to communities in need, or creating content to amplify POC representation, Anya works as a keynote and youth mentor – speaking at countless political forums, including The Clinton Foundation's Clinton Global Initiative, and serving as a keynote at schools and events all over the world. As a result of her many accomplishments and extensive advocacy work, Anya has been featured by countless companies and media publications including The Washington Post, CNN, MSNBC, Instagram, Afropunk, Red Table Talk, REVOLT TV, Elle, Seventeen, and Glamour Magazines. She was also honored as a part of McDonald's Future 22 and Ulta Beauty's Muse 100, receiving dozens of other social justice and community engagement awards including the Conversationalist Human Rights Award, and the 2021 New Jersey Association of Student Councils' Student Leader of the Year Award to name a few. She's currently studying journalism and video production, with a minor in social justice, as an honors college student at Rutgers University Newark and wants to leave behind a legacy as a "creative change agent" by using her visionary mindset to heighten the prevalence of empowering characters of color in film, television, and media.
---
Past Youth Leadership Retreats

Riley's Way first annual Youth Leadership Retreat was held September 20 – 22, 2019 at Timber Lake Camp in Shandaken, NY. We brought together close to 100 inspiring young women and their mentors from around the country to create meaningful connections with their like-minded peers. During the weekend, the teens participated in skill-building workshops, including communication techniques, relationship building, and action planning and camp activities, such as hiking, arts and crafts, dance class, and a ropes course. The biggest impact was made during the teen-led workshops, where the participants were able to hear about, and be inspired by, the work of their fellow change makers.

In 2020, we held our first virtual Retreat, with the theme of Kindness in Action: Civically Engaged, Virtually Connected, Intentionally Kind. Workshops and keynote sessions answered the questions: Around the world, we are watching as teens push movements forward like climate-change and racial equity. How can you effectively amplify your voice and the stories of others? How can you be civically engaged to make a difference on critical issues? How can you model kind leadership? 

In 2021, the need to feel connected and to develop deep, meaningful relationships was greater than ever. The theme for our October 2021 Retreat was Care to Connect: Build a Kinder Tomorrow. Leaders who care for themselves, their communities, and the world are the most capable of creating transformative change. Through a combination of community-building activities and leadership workshops focused on self-care, deep listening, connection-making, and the power of empathy, teen leaders joined together to discover how they can use these skills and practices to build a kinder tomorrow.

In 2022, we held the first gender-inclusive Riley's Way virtual Retreat. Focused on the theme of Networking Through the Lens of Kindness, this Retreat recognized that leaders who care for themselves, their communities, and the world are the most capable of creating meaningful, transformative change. Through a combination of networking workshops focused on confidence-building, connection-making, and skill-building, young leaders convened to discover how they can use these skills and practices to build a kinder, better tomorrow — together.

Teen Testimonials:

"Before the Retreat, I saw kindness as a positive trait to have in leadership (and in life in general), although ruthlessness and assertiveness were often valued in the spaces I work in… In a little under 48 hours, I realized that kindness isn't just a positive trait to have. Kindness is a crucial trait to have if you intend on creating effective and sustainable change, and it doesn't have to be mutually exclusive with taking initiative, working hard, or making yourself heard. The girls and staff at the Retreat showed me that. They showed me how to listen to, learn from, and lift up others through kindness." – Ashley, 2019 participant

"The Retreat weekend was an empowering experience, not just for me, but for everyone… We shared our experiences from school, our travels to get to the Retreat, and so much more… I got to learn about what other girls are doing and make connections about what we do in our communities, a Riley's Way value. The atmosphere quickly turned to a community where everyone was working together and spreading kindness." – Julia, 2019 participant

"The Riley's Way Youth Leadership Retreat was one of the most positive experiences I have had. It allowed me to meet young "changemakers" who truly want to make a difference in other people's lives." – Marjorie, 2019 participant
"Thank you so much for giving us an invaluable space to connect with youth and mentors, as well as participate in both lighthearted and critical discussions this past week at the Retreat. It was so special to come back to this space for the second year, to form bonds and build knowledge, all under a construct of kindness. I met friends and mentors this week, and I am grateful for Riley's Way for making it happen." – 2020 Retreat participant